Please come and join us for one of our Services
Weekday Activities in the Churches of Hartfield and Coleman's Hatch
Every Tuesday: 14:45 St Mary's School Service
Every Friday: 10:00 Peace Prayers at St Mary's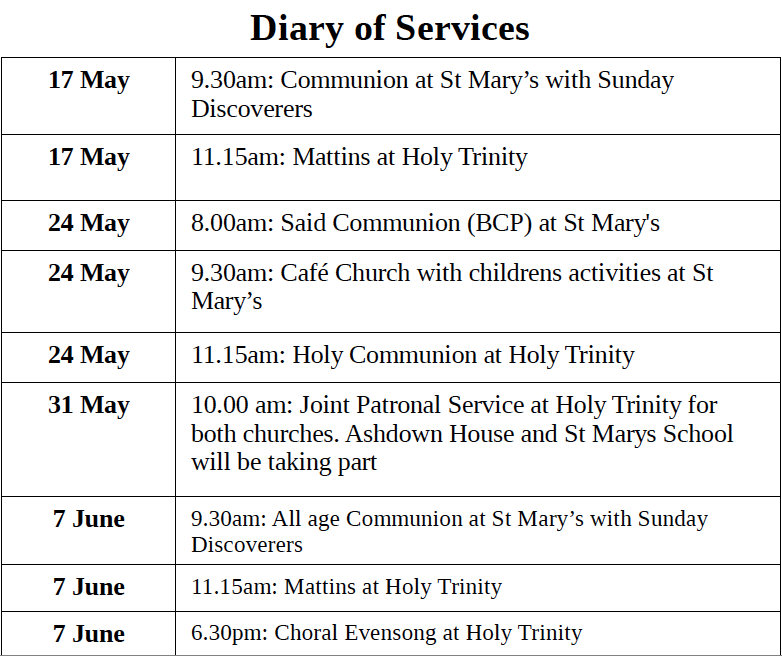 The Annual May Festival
Will take place at St Mary's school on Friday the 22nd of May at St Mary's school. The event (and Maypole dancing) starts at 1.30.  Anthony Simm
PICNIC ON THE CROFT
There will be the lighting of a Beacon and Fireworks to mark Pentecost, the birthday of the church, on Saturday 23rd May from 7:30pm to 9:30pm.
Due to unforeseen circumstances, this event will not be exactly as originally publicised, but please do come and join us on the Croft to mark the occasion.
Bring your picnic and enjoy gathering together as a community.
We hope you will join us.
There will be a service on the Sunday morning at 9:30am at St Mary's for all ages and at 11:15am Holy Communion at Holy Trinity.
Rev Julie
TRINITY CAFE – TRINITY CAFÉ Dates for your diary are the 14th and 28th May.
Don't forget! The cafe' is open 9.30am to 12pm on the 2nd and 4th Thursday of the month. Freshly brewed coffee and tea. Homemade cakes. Why not pop in for elevenses and a chat?!  If the weather is fine, you can come and bask in glorious sunshine on our newly restored lawn and enjoy more delicious homemade cakes, scones and other delicacies.
 Lovely children's area and a very warm welcome. We look forward to seeing you there. Vicarage Room, Coleman's Hatch
Outing to Rochester on Tuesday June 2nd
 We are having an outing to Rochester on Tuesday June 2nd. Coach from Colemans Hatch at 9am, stop at Tudeley to see Chagall Windows, free time in Rochester to visit castle ,etc, tour of cathedral, and Choral Evensong. Caroline Daszewska
FAMILY AND CHILDREN'S ACTIVITIES
We look forward to welcoming and meeting you and your family at one of our services. Look out especially for our Kidz Praise service which is aimed at young children and their families.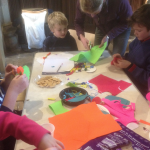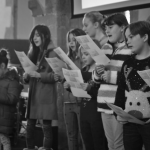 BAPTISM OR CONFIRMATION
If there is anyone in the congregation who would like to talk about being baptised or confirmed. Do give me a ring and we can talk about it together.
There will be a deanery confirmation service in the next few months, date and venue yet to be announced.
Rev Julie Sear
EXCITING NEWS FROM ST MARY'S CHURCH
Over the past few months, our children's services and work with the school has grown. One of the things we have been talking about and praying for is someone to come and help build up this work in the life of St Mary's and the village. I am pleased to say the Mission Committee from the diocese looked favourably at our application and presentation and have offered a grant over three years to help us fulfil the post. We will be meeting with Ali Campbell, the Diocesan Consultant to put together an advert for the post. The hope is we would have someone for the New Year. This is a crucial role and an exciting one. So do pray for the coming weeks that God would lead us to someone who has a heart for the mission of the church. As our mission statement says "Our Vision is to build a dynamic, vibrant church sharing Christ's love with people of all ages in our 21st Century rural community."
There will be more information about services coming out in the next few weeks
Revd. Julie Sear