Please come and join us for one of our Services
Weekday Activities in the Churches of Hartfield and Coleman's Hatch
Every Tuesday: 14:45 St Mary's School Service
Every Friday: 10:00 Peace Prayers at St Mary's
Mothering Sunday 15th March
Fifth Sunday Joint Services
Easter Monday 'FSW' Walk 1: 6th April 2015
FAMILY AND CHILDREN'S ACTIVITIES
We look forward to welcoming and meeting you and your family at one of our services. Look out especially for our Kidz Praise service which is aimed at young children and their families.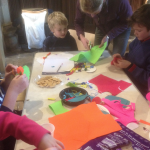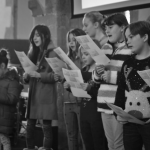 Kidz Praise – Sunday 8th March
Next week, 8th March, our young people will be planning and helping to lead KIDZ Praise. The theme will be 'walking together in the wilderness with Jesus' with all age prayer activities. We hope to see you at the service. Julie
TRINITY CAFE – Thursday 12th and 26th March – 9:30-12 noon Vicarage Room
Don't forget! The cafe' is open 9.30am to 12pm on the 2nd and 4th Thursday of the month. Freshly brewed coffee and tea. Homemade cakes. Why not pop in for elevenses and a chat?!
 Lovely children's area and a very warm welcome. We look forward to seeing you there. Vicarage Room, Coleman's Hatch
LENT COURSE – 'CALLED TO CONTEMPLATIVE ACTION'
Tuesday Evenings starting 24 February at St Mary's Church 7.30pm for coffee and pudding for an 8pm start. It will be finished by 9.30pm.
Please come and be part of our Lent course. If you need a lift, please let Julie know and we will be happy to arrange someone to pick you up. Lent is a time of reflection and anticipation. It's a time to scrutinise ourselves and to ask what Jesus is saying to his church today: to ask what needs to die with Christ so that something new might also rise with him to new life. Central to the whole of our Lent course in 2015 will be a time to take a closer look at the Benedictine mission movement. The flexible nature of the course will mean that people of all ages and in a variety of different contexts will have the chance to grow in discipleship, reading Scripture, studying and praying together.
The whole range of material – including sermon resources, specially commissioned liturgy, multi-media and cultural resources – will be challenging and creative,
encouraging us to explore for ourselves what the Scriptures and the Holy Spirit are saying about our life together. This Lent will give us a chance to examine ourselves, our faith communities and our world, and to work out what it looks like to live as a Christian in this society: It means helping people to discover God's great hospitality, his Kingdom in every aspect of daily life. It will ask us to consider, what does it mean to live as a Christian in this society'? How can we contribute to making this world reflect God's hospitality, his kingdom seen in all creation.
We hope that this Lent you will find some answers to these questions and feel ready to continue living the mission of Jesus together.
24 February Mark 1:9-15 Contemplative Action
3 March Mark 8:31-38 Contemplative Action
10 March Philippians 2: 1-11 Obedient Listening
17 March Philippians 3: 1-11 Ongoing Conversion
24 March Philippians 3: 12-20 Joyful Perseverance
31 March Mark 11: 1-11 Living the Mission of Jesus
BAPTISM OR CONFIRMATION
If there is anyone in the congregation who would like to talk about being baptised or confirmed. Do give me a ring and we can talk about it together.
There will be a deanery confirmation service in the next few months, date and venue yet to be announced.
Rev Julie Sear
EXCITING NEWS FROM ST MARY'S CHURCH
Over the past few months, our children's services and work with the school has grown. One of the things we have been talking about and praying for is someone to come and help build up this work in the life of St Mary's and the village. I am pleased to say the Mission Committee from the diocese looked favourably at our application and presentation and have offered a grant over three years to help us fulfil the post. We will be meeting with Ali Campbell, the Diocesan Consultant to put together an advert for the post. The hope is we would have someone for the New Year. This is a crucial role and an exciting one. So do pray for the coming weeks that God would lead us to someone who has a heart for the mission of the church. As our mission statement says "Our Vision is to build a dynamic, vibrant church sharing Christ's love with people of all ages in our 21st Century rural community."
There will be more information about services coming out in the next few weeks
Revd. Julie Sear