MONTH OF February 2016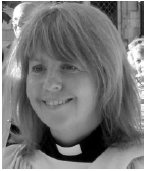 A letter to the Parishes
Dear friends,
Today the sun is shining, the sky is blue and the trees are showing signs of spring. The primroses are already out on the bank in my garden and the azalea is blooming with pink flowers. It all feels a bit early and no doubt the frost will do damage to those early bloomers but in amongst the grey skies and constant rain, I have enjoyed seeing the signs of something hopeful, a sign of something to come.
Hope is a commodity not to be wasted. We all need signs of hope in our lives.
As the pages of the calendar turn, we leave behind the seasons of Christmas and Epiphany with their bright lights and decorations and welcome the simplicity of Lent. In the same way that the Spring changes the familiar landscape, so too does Lent. It is the time for personal spiritual spring-cleaning. A sparsely decorated church is a reminder of the need to put to one side the familiar and examine what we do and why we do it. I really appreciate the time to de-clutter.
We all seem to lead lives at a pace these days. We find it hard to stop and pause to check direction or to review our decisions. We get tired and slow down. In a similar way, emotional, physical, and spiritual clutter can make us less effective than we once were. Lent is our God-given opportunity to get things straightened out, to de-clutter and to see things in a new way.
We begin to mark Lent on Ash Wednesday (10 February). There will be a service at St Mary's at Midday to which all are welcome. To help in the process of inward reflection, some people choose to take time out during lent and study together. Again, we will be running a Lent group for all who would like to learn together in this way – Look on the website to see more information. Do make the most of the opportunity to do something quite different and start Lent in a positive and disciplined way.
We often think that Lent is about giving something up, about a time of self examination. That is true. But lent can also help us to see things differently. To give more of ourselves to others.
A quote from Henri Nouwen:
"Prayer is first of all listening to God. It's openness. God is always speaking; he's always doing something."
Just as the spring changes the way we view the world, so too Lent helps us see things differently. To pause for a moment and examine our hearts and minds. To let go of areas in our lives where there is bitterness and hurt and pick up the gift of forgiveness and reconciliation. It requires us to stop and be still, to listen and pray. I would like to encourage you whatever is going on in your life, to take a few minutes every day to reflect and be thankful for the many things that are good in your life and to offer to God those things that we would like to change or heal. A Spring clean of the heart and mind is good for the soul and the body.
With every blessing. Rev'd Julie