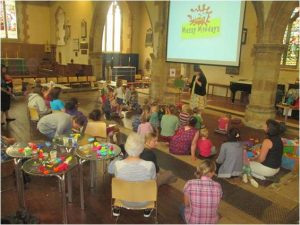 Children and Families at St Mary's Church
We look forward to welcoming and meeting you and your family at one of our services. Here is a little overview of the different 9:30am services that we have here at St Mary's...
1st Sunday – Holy Communion with Sunday Discoverers
During our 1st Sunday Holy Communion service we have Sunday Discoverers for children aged 4years+. This is a time where we explore the readings for the day in an engaging and age appropriate way, with a snack before returning to church in time for to share in Communion with the wider church family. 
2nd Sunday – Church Family Praise
Church Family Praise is an informal, all age service with readings, prayers and music. There is a lot of movement and activities for the children and times of reflection and response too. With songs old and new and a talk on a theme for both children and adults. 
It takes place at 9.30 am and lasts about an hour and is followed by refreshments.
 3rd Sunday – Family Communion with Sunday Discoverers and Big Breakfast
Family Communion with Children's Activities is a more traditional Sung Holy Communion and takes place at 9.30 am. All are welcome to come to front to receive Communion, if that is their tradition, or to receive a prayer of blessing.
There is an adult choir to lead the congregation in all the music. Intercessions are led by members of the congregation. 
Children aged 4+ are welcome to join us for Sunday Discoverers where we will explore the bible readings for the day in an age appropriate and accessible way.
Children age 9+ are invited to be part of Big Breakfast in the Rectory, where they share breakfast together whilst exploring the readings and talking about issues of life and faith. 
Please join us for coffee afterwards.
4th Sunday – Cafe Church
Cafe Church at St Mary's is an informal service around tables with coffee and croissants. With times of singing, listening and then discussing questions relating to the theme. children are welcome to go over to a table with activities, and young people have their own table with their own questions, lollies and table cloths to doodle on!
For more information about what we have available for children and young people in our Sunday services at St Mary's please contact Rev'd Julie Sear on 01892 770436 or click here to email