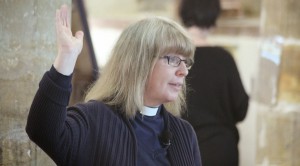 My name is Revd Julie Sear and I am the rector of Hartfield and Coleman's Hatch Parishes. I arrived in November 2013 with my husband Trevor. We have two grown up sons Ben and Andrew. Ben is also training for ordination at a college in London.
I worked for many years at All Saints' Lindfield as their pastoral worker and then was selected for training for ordained ministry. I commuted for two years to Trinity College Bristol and then undertook my Curacy in Ashington, Washington, Wiston with Buncton, three parishes nestling at the base of the downs.
Here in St Mary's Hartfield, we love to welcome people of all ages and our services reflect our mission and heart to see the next generation come to know more about the Lord Jesus. ( do take a look at our services on the website). We also have close links with St Mary's school and a once a month cafe' in the church where parents and children and community come together.
At Holy Trinity, Coleman's Hatch, we have more traditional services which reflect a rich and diverse form of worship. At the moment this is an older congregation but we would love to welcome families to join us and get to know us.
Our mission is to reach out to the communities with the love of God and to build up a community of faith in both parishes.
If you would like to talk to me please do contact me at the rectory.
Tel: 01892770436 or email me on revjuliesear1@gmail.com