A letter from Julie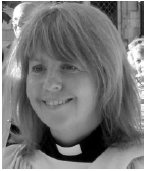 Dear Friends,
I would like to take this opportunity to wish you all a very Happy and Peaceful New Year.
I don't know about you but I am determined this year to let go of some of the trivia and hold onto those things that are important in my life.
The month of January is the time when we think about the year that has gone - and sometimes it has
been a difficult one and we are glad to close the door on it. And other years we look back with great joy at the events of the past twelve months.
Whatever the year has been, it is a good time to reflect upon where we are, and where we are going. It is a time when a new door may open for us, and as we cross the threshold between one year and another, we begin to anticipate what lies ahead. We often think about the future and fresh starts by making lots of New Year Resolutions -how to lose the Christmas pounds, how we might give something up, as well as things we might decide to take up.
The truth is, new starts and fresh possibilities are available to us every single day. I love the verse in the Book of Lamentations 3 in the Old Testament which says, 'The steadfast love of the Lord never ceases; his mercies never come to an end; they are new every morning; great is your faithfulness.'
I find that knowing each day begins afresh, offering the possibility of new opportunities is a real comfort, as well as a challenge. Beginning each day knowing we are loved and forgiven, is indeed a precious gift.
That feeling is accentuated at the start of a New Year. It is really good practice, to reflect on what has gone well over the past year, and what needs to be different, and what we might do about that. It is a good time to take stock, assess priorities in our lives, and decide what will really be important to us this year.
So don't rush into the New Year without pausing and reflecting on where you are going. As I discovered over Christmas, it's not the trivia or hastily given gifts or moments that build us up but those little moments of love and grace, so freely given that are the long lasting gifts that carry us through and enable us to live out our lives with purpose and hope.
With best wishes
Reverend Julie