Thursday 12th and 26th May – 9:30-12 noon Vicarage Room
Donations collected are being split between renovating the Vicarage Room and Hales Alms Housing, Coleman's Hatch. Do come and see us and try the coffee, tea and cake. The café is open on the 2nd and 4th Thursday of the month: 9:30am - 12pm. We look forward to seeing you.
Julia Miller and the Trinity Café Team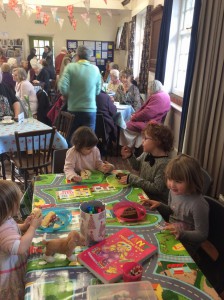 Over the past few months, some of the parishioners of Holy Trinity Church have been feeling how good it would be to have a place for the community to meet, particularly living in a small hamlet. Once the idea was suggested, there was great excitement amongst the team. On the opening day the Vicarage Room looked splendid. Bunting and matching cloths. Flowers and vintage china and plates. The table was laden with home made cakes and biscuits, with a wonderful aroma of coffee just waiting to be served. At the back of the room there was a lovely area for the children to play and a table with newspapers for those who wanted to sit quietly. At 9.30am people began to arrive and an hour later the place was full, with a buzz and lively atmosphere. As I welcomed people and thanked the team for all their hard work, it was obvious people were really pleased to be there. A place to meet friends and make new ones. The age range was from a few months to octogenarians all enjoying the excellent selection of home made cakes from the community bakers. The wonderful thing about this whole venture is seeing the church and the community work together. A place where all that is good about community can be built up for the future. It can be hard living in a small rural area. Ashdown Forest is a place of beauty but it can also be quite isolated and lonely. I hope the Cafe' will begin to offer a place where people can feel connected and where in the future we can reach out in other ways.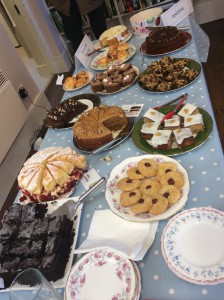 As Rector, I feel that the church there as the Parish Church for everyone. We meet on Sundays to worship and give thanks to God but then we are called to live out our faith in our communities. This includes offering good coffee and cake!
 I want to thank the team who made it all happen and all those who have offered to be bakers in the coming months.
 Donations collected are being split between renovating the Vicarage Room and a local charity each term.
 Rev'd Julie Sear Rector of Hartfield and Coleman's Hatch