Dear Friends,It has been quite a week. Pancakes on Tuesday; Ash Wednesday on Wednesday and Perseverance Rover Lands on Mars on Thursday. It has also been a week where the infection rate has continued to come down in the UK and the vaccine programme has continued to be successful. So much to be thankful for at the moment. Please continue to pray for all who are in hospital and all who wait for a vaccine. Of course this doesn't mean we should become complacent or take things for granted but perhaps our weary souls feel a little less weary and more hopeful when we receive good news.I know this lockdown has felt much harder this time round. The February skies have felt rather grey but Spring is on its way and we journey through Lent together towards Easter and new life.I hope you will continue to pray for each other and the wider world. Pray for all who make decisions every day on our behalf. 

Please pray for all those who are grieving or alongside loved ones in hospital.
We pray to God for those we hold in our hearts, praying for their health, their well-being and their sense of hope. We pray that even when loved ones cannot physically be together they would not feel apart. We pray for God's help in our communicating, our connecting and our caring. Thank you for all your loving acts of kindness.
We pray for God's commitment to those most at risk of this virus by praying for those who are particularly vulnerable and isolated. Praying for their deliverance, protection and comfort. We pray for those who care for them, that they would be strengthened and encouraged in this work.
We pray especially pray for the family of Robert Murray Willis. Praying especially for Fenella, their children and Robert's brothers, James and Charlie.
Ros and John Cope and family, especially remembering Richards wife, Katharine and son Bradley
For the Pickering family as they prepare for the funeral of Natalie. We pray for Natalie's husband, Julian and their two boys and David and Anna.
We pray for Mark, Joanne, William and Theo as Mark spends time alongside his Dad, John, in hospital. John is seriously ill and the family are taking it in turns to sit with him.
St Mary the Virgin School
Please pray for all Staff, children and families as the Spring term commences. We give thanks for their online teaching and learning. We pray for the children's well-being and community support where needed
LiveLent: God's Story, Our Story
For each of the 40 days of Lent, this booklet includes a short Bible passage, a reflection and a prayer. The daily reflections follow weekly themes – each with an accompanying action – drawn from the Archbishop of Canterbury's Lent Book 2021, Living His Story: Sharing the extraordinary love of God in ordinary ways by Hannah Steele (SPCK).
The book invites each of us to reflect on our own story of God and how we might share it through our everyday lives as part of our Christian witness.
It encourages us to take a fresh look at evangelism, exploring how Jesus and his first followers communicated the good news of God's love by inviting, listening and responding creatively to others. If you would like a copy of the booklet, please let me know.Our zoom Lenten sessions begin on Thursday 25th February 7-8pm. We would love you to join us. Please let me know and we will make sure you are sent an invite.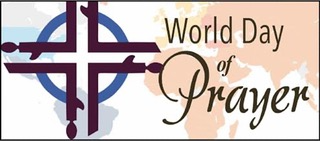 World Day of Prayer
The World Day of Prayer will take place on Friday 5th March in St Mary's Church, Hartfield at 10.30am ( note changed time).This year the day of prayer is composed by women of the Pacific Islands of Vanuatu, entitled, 'Build on a strong foundation'.
We look forward to welcoming you to this service and would ask you to let me know if you are hoping to attend by email. revjulisear1@gmail.com or 01892770436. We are asked to keep a list of those who attend for track and trace.
Numbers will be limited. We ask you to wear a mask in church and to follow the guidelines as you arrive.
Thank you so much.
Rev Julie
APCM's for 2021
Our Annual Parochial Church Meetings are to be held in April.
We hope they will take place in our churches. More information will follow.
Holy Trinity Church Monday 26th APRIL in Holy Trinity Church at 7pm
St Mary's Church Tuesday 27th April in St Mary's at 7pm
Church Services for the coming week
I hope some of you were able to watch the services of Compline and Ash Wednesday this week.
On Sunday we have our usual online service this time a service of Holy Communion recorded in St Mary's. This marks our first Sunday of Lent.
There is also a short talk for our young people from Ed Pascoe also on the website.
On Monday 22nd and Wednesday 23rd there will be our services of Night prayer available after 4pm.
My hope is for us to be back in church on the 28th February at both of our churches. I am waiting on Boris Johnson revealing something of our Road Map. I will let you know on Tuesday the decision made for us to return to public worship. You should receive an email letting you know how to book your place or please check the websites.Please pray for our Connect@6 session on Monday night with our young people.
A prayer written by Andrew Nunn, Dean of Southwark, based on John chapter 20 verse 19: The doors of the house where the disciples had met were locked.
Ever-present God, be with us in our isolation, be close to us in our distancing, be healing in our sickness, be joy in our sadness, be light in our darkness, be wisdom in our confusion, be all that is familiar when all is unfamiliar, that when the doors reopen we may with the zeal of Pentecost inhabit our communities and speak of your goodness to an emerging world. For Jesus' sake.
I will continue to keep you all in my prayers.
With love and blessings for your families.
Julie